How is the world of vehicle storage affected by automation and robotics technology, as well as the increasing environmental regulations in urban areas? Discover how vehicle moving is a critical element to success—and the equipment that supports high-tech and old-school players alike.
In today's heavily developed urban areas, space is the biggest luxury item of all. Vehicle storage has gone high-tech to maximise the value of each square foot. Robotic and automation technologies allow cars to be stacked on multiple floors with no need for driving ramps. For example, in the iconic Car Towers in Wolfsburg, Germany, hundreds of new Volkswagens are stored before being delivered to their owners.
Parking is another area revolutionised by technology in recent years. In the Al Jahra Court in Kuwait, the robotic system has more than tripled the number of parking spaces that would otherwise be feasible to fit in the equivalent volume. In Europe, the largest automated car parking system is the automated underground parking facility of DOKK1in Aarhus, Denmark.
With automated parking systems (APS) like these, the driver can check in their car using a touchscreen, watch it recede on a moving platform and have it presented again on their return. This seamless experience is quite a leap from having to drive around in circles looking for a free space, and then struggle to find your car again after having finished your errands.
Speed is crucial, as Bengt Becker from Stringo's Global Sales team explains. "People want their cars instantly as they return from their shopping. Ideally, before their kids' ice cream starts to melt. In these highly sophisticated systems, the role of human staff members is to monitor and troubleshoot the operations, with minimum contact with both customers and cars."

Conditions may vary – but the basic vehicle storage needs are the same
Most garages or vehicle storage facilities will have to make do without revolving platforms and robot technologies for quite a while longer. And even high-tech players may require some manual vehicle moving from time to time. Although conditions may vary, the vehicle storage providers' basic goals and challenges are similar: to fit as many vehicles as possible into the space available and provide customers with swift and secure services.
So what can be done if a car is needed that is trapped behind several others? Driving the cars is rarely a safe option (if staff have access to the car keys, which isn't always the case). In these situations, an electric vehicle mover, like the Stringo S2, is a helpful tool, according to Bengt, "It lets a single staff member easily move a locked or non-functioning car out of the way to access cars that are trapped further back," he explains.

Vehicle storage that caters for old school enthusiasts
Lack of space isn't the only factor affecting the role of the car in today's society. To improve air quality and reduce CO2 emissions, many cities worldwide are banning ICE cars from their central areas. At the same time, automotive manufacturers are gradually phasing out fossil fuel cars from their production lines. In the near future, all ICE cars will be considered 'vintage'.
At present, however, collectors of classic cars are still willing to spend both time and money to keep their precious gems in mint condition for as long as possible.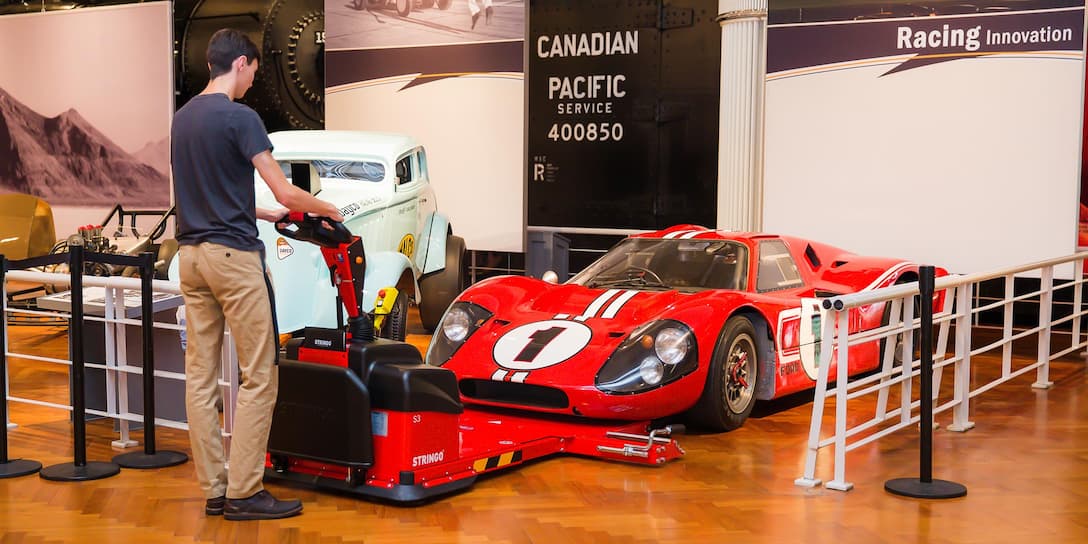 "Today's car enthusiasts might rely on an EV for their daily transportation needs, while they collect classic ICE models as a hobby or an investment, not unlike valuable artwork or antique furniture," says Bengt.
As an urban car collector with no access to a private garage, how do you keep your investment safe from the forces of nature and from getting stolen? The options for this purpose range from basic self-service storage to high-end facilities that offer additional services all year round, such as a new paint job or upholstery if needed.
"In the more deluxe end of the spectrum, the owner might tell their storage partner a few days ahead that they'll be taking their car out for a spin over the weekend. Staff members will then make sure the car is presented timely and in top condition to be picked up for the occasion," Bengt explains.
Some classic cars collectors take their hobby one step further and keep their gems stored at membership clubs where they can spend their leisure time with like-minded enthusiasts.

"These places are like country clubs, but instead of golf courses, they might have racing tracks or showrooms where unique cars can be displayed. Some members even have their own apartment or bungalow to stay at, with the car in an adjacent space," says Bengt.
To manage delicate and valuable cars in a safe and efficient manner—as well as cater to the requirements of a rather demanding customer base—storage facilities often use electric vehicle movers, like Stringo. "Some of these companies, such as Moss Automotive in London, highlight their Stringos as a competitive advantage on their websites.
They can assure each customer that their car will be dealt with in a way that minimises the risk of damage. Staff members won't need to drive the cars they store or even touch them. This is very reassuring for the owners, who can be almost as precious about their cars as a parent with their child," Bengt concludes.

Find out how to optimise your floor space
As a car dealer or storage provider, how can you maximise the ROI of the space in your showroom, garage, or vehicle storage centre? To find out, download your copy of the e-book Car Dealers & Storage Facilities – how an electric vehicle mover can benefit your business.