Customer demands, business models, and technology are rapidly changing in the automotive industry. How are these trends affecting car dealerships?
To find out, we had a chat with Niklas Block, Sales Support at Molin Bil, an authorized BMW reseller in the northern Swedish town of Sundsvall.
What sort of cars would you say are in demand today?
"There's a clear shift towards larger and heavier cars. Today's customers prioritise space. Several smaller models are being phased out of production. The increased demand for electric and hybrid vehicles also plays a part in this, since electric cars tend to be on the larger side to fit the battery."
How has selling cars changed since you started out?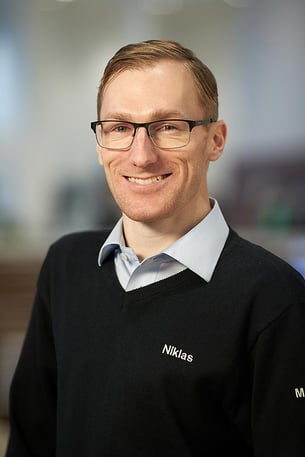 "In my early days at Molin, we could have 30 to 40 new cars waiting to be sold. Today, I can usually count the cars we keep in stock on the fingers of one hand. The market as a whole has shifted towards built-to-order. Our customers plan ahead in a different way. They've done their research, know what they want, and are aware that they may need to wait up to a year for a particular model. With that said, they're usually pretty open to our input, and are often prepared to make certain compromises if it speeds up the delivery. Also, leasing is becoming more popular as an alternative to owning."
Why do you think leasing is on the rise?
"Leasing gives the customer a predictable monthly cost, instead of needing to spend a large lump sum upfront. That's an appealing option to a lot of people, especially during financially uncertain times. When the leasing period is up, usually after one or three years, the customer can either buy the car or return it to us, and we can sell it on as a used car. Some customers also choose leasing as a temporary solution while waiting for a car they've ordered to buy."
For you as a car dealer, what are the benefits of leasing?
"It gives us a better overview of the influx and output of cars to our facilities. We know when we can expect a car back that we can sell on."
How has the daily work in the sales hall changed in the last few years?
"One big change is how we transport cars in and out of the hall. Before, we used to simply drive the cars, which was terrible for the noise level and air quality. We had to open all the doors and windows to air out the fumes. I couldn't imagine working like that again. It's just not safe, healthy, or efficient enough. We also tried different types of dolly solutions, but they took too much time and effort. About four or five years ago, we started using electric vehicle movers from Stringo instead."
What are the main benefits of using a Stringo, in your opinion?
"It gives me and my co-workers a much better working environment and minimizes the risk of the cars being damaged. The Stringo is easy to maneuver, even around tight corners. You can line up ten cars neatly in a row with exactly the right distance between them, without having to get in and out of the cars to check. At Molin, we're all pretty good at precision parking, but Stringo definitely does it better. It's also useful for getting non-starting cars into the workshop for repairs, instead of having to tow them. I think it's a fantastic tool."

Do you want to learn more about how to improve the safety and space efficiency of your car dealership or storage facility? Don't miss our e-book on how an electric vehicle mover can benefit your business.