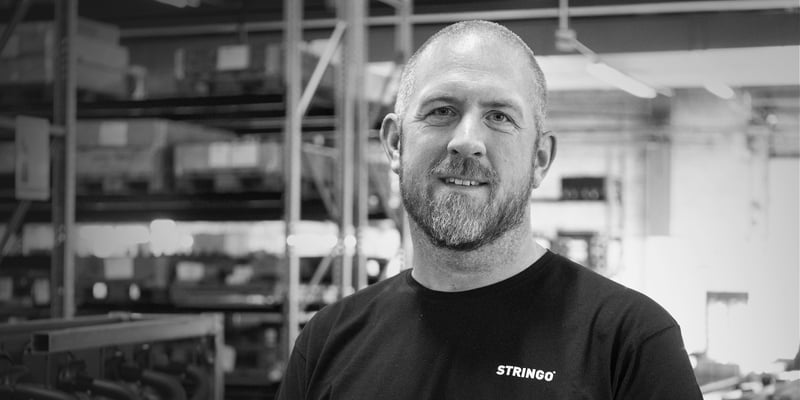 Leif is a big man with a big job: he's the team leader of our assembly staff, the ones who make sure our machines are built with premium safety standards and customisations. And boy, do his tattoos have a story to tell.
Tell us what you do at Stringo Leif.
I work as a fitter and am also a team leader for the assembly staff which is a responsibility enjoy. I started working at Stringo in 2015 and before that, I worked in a sawmill. From wood to steel, feels good to make the transition.

What's your favourite aspect of the job?
The variety, hands down. We have some pre-assembly and then everything is assembled into a finished machine. But the nice thing about our jobs here is that there's a lot of customisation which means that there's a lot of freshness to the Stringos we put out. No two days are alike here.
What pulls you forward? What makes you give that little extra?
What makes me give that extra 10% is probably when it comes to an order from more exclusive customers; that's a very cool aspect of the job. I can't deny when an amazing, world class car brand orders a Stringo for their end-of-the-line or testing facilities or a private collector or museum. But thinking about any customer using our machine and finding it useful is something that motivates me to deliver... no matter who they are.
Got any projects in the works?
I'm looking forward to continuing with the assembly line and pre-assembly stations that we have started and keep making better and better. We also have some further development that I'm, to some extent involved in, and we have a production area makeover that the whole team is involved in.
Give me your most genuine story of one of your tattoos. No holding back.
The most significant ones are my cancer tattoos. My parents got cancer in 2012 and 2015 so that's why I wanted to do the f*** cancer tattoo. That's really how I feel about this horrible disease that robs us of loved ones.

Then the idea of praying hands came up then I wanted to add two ladybugs in the motif. That stands for my mom and dad as my mother liked ladybugs. The ladybugs were then placed in the rosary around the hands in prayer.
Why did she like ladybugs?
One Christmas (which was also my mother's best time of the year, she really loved Christmas), around two years after my mother passed away, we were dressing the Christmas tree. We were putting the Christmas tree in the foot so we could start the dressing of the tree and as we did, a ladybug came over the Christmas tree base. That's a very unusual thing to have happen inside and in the cold of December. It felt like my mother was there.