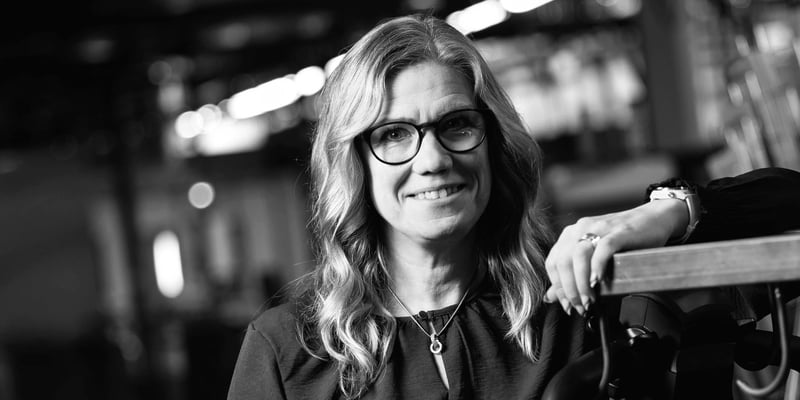 That smile on her face is either being assigned the role of our new Financial Controller of Stringo or her new, just married grin. Either way, Jenny Molin is a new colleague for us at Stringo and with a wealth of financial knowledge, someone who will keep us growing and on track to hit our financial goals. Meet the new captain of finance here at Stringo and her first plans and expectations.
My, you look brown, where you been?
"What do you mean? Don't you also get tanned in the Swedish November sun? Jokes aside, I just got back from our delayed honeymoon which we spent in Alicante, Spain."

You've been in the finance game for a while now, where were you before Stringo?
"For the last 14 years I've been in the sawmill industry as a Financial Manager at SCA. For many years my focus has been on analysing and developing a business where the main goal is to split the raw material in to pieces and get the highest price for each piece—it's completely different than Stringo's business and I'm really looking forward to learn more about the industrial space we operate in."
Are there any lessons you'd take from your SCA days to Stringo?
"I would say to pick the best pieces of the cookie of a large company with well-developed models and structure. I'm looking forward to, in a humble way, implement ways of working with our business and still keep the fantastic heart and flexibility of a smaller, growing company."
What are your first priorities?
"Besides getting onboard with our daily routines at the finance department I would say to really understand our product and the business—from my point of view that really is the key to be the best advisor to the management and company as a whole. I see my role as something much wider than handling bookkeeping, it's really to help drive the business, and I can't wait to be up and running!"
How do the colleagues feel for you? How's your reception been?
"I must say that I have never felt so welcomed ever as I felt when I started at Stringo—Nina and the gang really has succeed in making a fantastic climate within the organisation where everyone genuinely cares for each other and makes sure new colleagues feel that they are a part of the team from day one."
On to married life: how does it feel? What's been the biggest change so far?
"Well, we have lived together for five years before we got married so on a daily basis, I have to say that—besides a really fun wedding party and the recently made honeymoon—the difference isn't huge. The big change is of course my new last name, don't get me started on the challenge of changing passport, driver's license, credit cards….